FORD FOCUS mk II 2 III 3 B-MAX 1.0 EcoBoost C-MAX 2 II ECOSPORT FIESTA V 5 FIESTA V 6 FUSION GRAND C-MAX KA+ KUGA MONDEO IV 4 V 5 S-MAX TOURNEO CONNECT TRANSIT 1.4 1.5 1.6 TDCi ECOnetic
FILTRON to przede wszystkim nasz polski producent filtrów znany na całym świecie.
Jakość i niezawodność filtrów FILTRON to zasługa nowoczesnych linii i procesów produkcyjnych, których precyzja weryfikowana jest przez największe koncerny motoryzacyjne i niezależne firmy certyfikujące. Od 2016 roku właścicielem marki jest koncern MANN+HUMMEL, a produkcja nadal odbywa się w naszych polskich zakładach w Gostyniu.
FILTRON projektuje i produkuje filtry oryginalne oraz zamienniki do większości samochodów produkowanych na świecie. Asortyment filtrów zapewnia pokrycie 97% europejskiego rynku pojazdów. Firma oferuje wszystkie rodzaje filtrów przeznaczonych dla branży motoryzacyjnej, a także filtry do maszyn, sprzętu ciężkiego oraz urządzeń specjalistycznych.
Firma używa ponad 60 metod badawczych zgodnych z międzynarodowymi standardami. Kontroluje zarówno jakość materiałów używanych do produkcji, jak i wytrzymałość oraz skuteczność gotowych produktów.
Systemy zarządzania jakością FILTRONA spełniają wymagania normy IATF 16949 oraz normy środowiskowej ISO 14001:2015. Procedurami jakościowymi objęty jest cały proces produkcyjny: począwszy od wyboru materiałów, poprzez półwyroby, aż do wykonania wyrobu gotowego i przekazania go do magazynu.
Jeżeli chcą się Państwo dowiedzieć więcej szczegółów na temat filtrów oleju, to prosimy o kontakt telefoniczny: 790 566 145
lub odwiedziny NASZEGO SKLEPU STACJONARNEGO W JAWORZNIE NA ULICY WOJSKA POLSKIEGO 2, OSIEDLE STAŁE na terenie AJP (dawna "Sosenka")!!!
Decydując się na filtr oleju w naszym sklepie zyskujesz pewność dobrej jakości i atrakcyjnej ceny.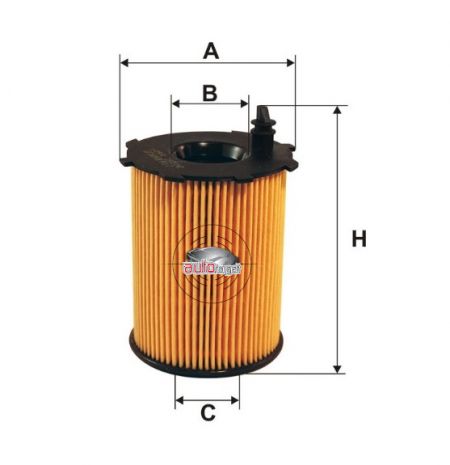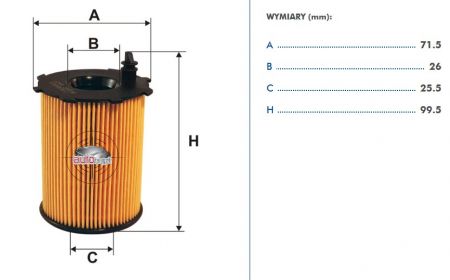 AutoTarget
Wojska Polskiego 2

, na terenie AJP (dawna "Sosenka")


43-600

Jaworzno

Telefon do sklepu: 790 566 145
Telefon do serwisu: 530 623 099
Pon - Pt — 9:00 - 17:00
Sobota — 9:00 - 13:00
| | | | | |
| --- | --- | --- | --- | --- |
| Marka, model, typ | KW | CCM | KM | Data produkcji |
| FORD | | | | |
| FORD B-MAX (JK) 1.0 EcoBoost | 103 KW | 998 CCM | 140PS | 2016/02-> ... |
| FORD B-MAX (JK) 1.5 TDCi | 55 KW | 1499 CCM | 75PS | 2012/10-> ... |
| FORD B-MAX (JK) 1.5 TDCi | 70 KW | 1499 CCM | 95PS | 2015/04-> ... |
| FORD B-MAX (JK) 1.6 TDCi | 70 KW | 1560 CCM | 95PS | 2012/10-> ... |
| FORD C-MAX (DM2) 1.6 TDCi | 74 KW | 1560 CCM | 101PS | 2007/02->2010/09 |
| FORD C-MAX (DM2) 1.6 TDCi | 66 KW | 1560 CCM | 90PS | 2007/02->2010/09 |
| FORD C-MAX (DM2) 1.6 TDCi | 80 KW | 1560 CCM | 109PS | 2007/02->2010/09 |
| FORD C-MAX II (DXA/CB7, DXA/CEU) 1.5 TDCi | 70 KW | 1499 CCM | 95PS | 2015/03-> ... |
| FORD C-MAX II (DXA/CB7, DXA/CEU) 1.5 TDCi | 88 KW | 1499 CCM | 120PS | 2015/03-> ... |
| FORD C-MAX II (DXA/CB7, DXA/CEU) 1.5 TDCi ECOnetic | 77 KW | 1499 CCM | 105PS | 2015/03-> ... |
| FORD C-MAX II (DXA/CB7, DXA/CEU) 1.6 TDCi | 70 KW | 1560 CCM | 95PS | 2010/12-> ... |
| FORD C-MAX II (DXA/CB7, DXA/CEU) 1.6 TDCi | 85 KW | 1560 CCM | 115PS | 2010/12-> ... |
| FORD ECOSPORT 1.5 TDCi | 66 KW | 1499 CCM | 90PS | 2013/10-> ... |
| FORD ECOSPORT 1.5 TDCi | 70 KW | 1499 CCM | 95PS | 2015/05-> ... |
| FORD ECOSPORT 1.5 TDCi | 74 KW | 1499 CCM | 100PS | 2015/05-> ... |
| FORD ECOSPORT 1.5 TDCi EcoBlue | 92 KW | 1499 CCM | 125PS | 2017/11-> ... |
| FORD ECOSPORT 1.5 TDCi EcoBlue 4x4 | 92 KW | 1499 CCM | 125PS | 2017/11-> ... |
| FORD FIESTA V (JH_, JD_) 1.4 TDCi | 50 KW | 1399 CCM | 68PS | 2001/11->2008/06 |
| FORD FIESTA V (JH_, JD_) 1.6 TDCi | 66 KW | 1560 CCM | 90PS | 2004/11->2008/06 |
| FORD FIESTA V Van 1.4 TDCi | 50 KW | 1399 CCM | 68PS | 2003/10->2010/12 |
| FORD FIESTA V Van 1.6 TDCi | 66 KW | 1560 CCM | 90PS | 2007/04->2009/09 |
| FORD FIESTA VI (CB1, CCN) 1.4 TDCi | 51 KW | 1399 CCM | 70PS | 2010/07-> ... |
| FORD FIESTA VI (CB1, CCN) 1.4 TDCi | 50 KW | 1399 CCM | 68PS | 2009/01-> ... |
| FORD FIESTA VI (CB1, CCN) 1.5 TDCi | 55 KW | 1499 CCM | 75PS | 2012/09-> ... |
| FORD FIESTA VI (CB1, CCN) 1.5 TDCi | 70 KW | 1499 CCM | 95PS | 2015/05-> ... |
| FORD FIESTA VI (CB1, CCN) 1.6 TDCi | 66 KW | 1560 CCM | 90PS | 2008/06-> ... |
| FORD FIESTA VI (CB1, CCN) 1.6 TDCi | 55 KW | 1560 CCM | 75PS | 2008/06-> ... |
| FORD FIESTA VI (CB1, CCN) 1.6 TDCi | 70 KW | 1560 CCM | 95PS | 2010/02-> ... |
| FORD FIESTA VI Van 1.4 TDCi | 51 KW | 1399 CCM | 70PS | 2010/07-> ... |
| FORD FIESTA VI Van 1.4 TDCi | 50 KW | 1399 CCM | 68PS | 2009/01-> ... |
| FORD FIESTA VI Van 1.5 TDCi | 55 KW | 1499 CCM | 75PS | 2012/10-> ... |
| FORD FIESTA VI Van 1.5 TDCi | 70 KW | 1499 CCM | 95PS | 2015/05-> ... |
| FORD FIESTA VI Van 1.6 TDCi | 70 KW | 1560 CCM | 95PS | 2010/02-> ... |
| FORD FIESTA VI Van 1.6 TDCi | 66 KW | 1560 CCM | 90PS | 2009/01-> ... |
| FORD FIESTA VII 1.5 TDCi | 63 KW | 1499 CCM | 85PS | 2017/01-> ... |
| FORD FIESTA VII 1.5 TDCi | 88 KW | 1499 CCM | 120PS | 2017/01-> ... |
| FORD FOCUS C-MAX (DM2) 1.6 TDCi | 80 KW | 1560 CCM | 109PS | 2003/10->2007/03 |
| FORD FOCUS C-MAX (DM2) 1.6 TDCi | 66 KW | 1560 CCM | 90PS | 2005/02->2007/03 |
| FORD FOCUS II (DA_, HCP, DP) 1.6 TDCi | 74 KW | 1560 CCM | 100PS | 2004/07->2012/09 |
| FORD FOCUS II (DA_, HCP, DP) 1.6 TDCi | 80 KW | 1560 CCM | 109PS | 2004/07->2012/09 |
| FORD FOCUS II (DA_, HCP, DP) 1.6 TDCi | 66 KW | 1560 CCM | 90PS | 2005/01->2012/09 |
| FORD FOCUS II Furgon / kombi 1.6 TDCi | 80 KW | 1560 CCM | 109PS | 2004/07->2011/07 |
| FORD FOCUS II Furgon / kombi 1.6 TDCi | 66 KW | 1560 CCM | 90PS | 2005/09->2011/07 |
| FORD FOCUS II Turnier (DA_, FFS, DS) 1.6 TDCi | 74 KW | 1560 CCM | 100PS | 2004/07->2012/09 |
| FORD FOCUS II Turnier (DA_, FFS, DS) 1.6 TDCi | 80 KW | 1560 CCM | 109PS | 2004/07->2012/09 |
| FORD FOCUS II Turnier (DA_, FFS, DS) 1.6 TDCi | 66 KW | 1560 CCM | 90PS | 2004/07->2012/09 |
| FORD FOCUS II sedan (DB_, FCH, DH) 1.6 TDCi | 74 KW | 1560 CCM | 100PS | 2005/04->2012/09 |
| FORD FOCUS II sedan (DB_, FCH, DH) 1.6 TDCi | 66 KW | 1560 CCM | 90PS | 2005/04->2012/09 |
| FORD FOCUS II sedan (DB_, FCH, DH) 1.6 TDCi | 80 KW | 1560 CCM | 109PS | 2005/04->2012/09 |
| FORD FOCUS III 1.5 EcoBoost | 134 KW | 1498 CCM | 182PS | 2014/09-> ... |
| FORD FOCUS III 1.5 TDCi | 70 KW | 1499 CCM | 95PS | 2014/09-> ... |
| FORD FOCUS III 1.5 TDCi | 88 KW | 1499 CCM | 120PS | 2014/09-> ... |
| FORD FOCUS III 1.5 TDCi ECOnetic | 77 KW | 1499 CCM | 105PS | 2014/09-> ... |
| FORD FOCUS III 1.6 TDCi | 70 KW | 1560 CCM | 95PS | 2010/07-> ... |
| FORD FOCUS III 1.6 TDCi | 85 KW | 1560 CCM | 115PS | 2010/07-> ... |
| FORD FOCUS III 1.6 TDCi ECOnetic | 77 KW | 1560 CCM | 105PS | 2012/05-> ... |
| FORD FOCUS III Turnier 1.5 EcoBoost | 134 KW | 1498 CCM | 182PS | 2014/09-> ... |
| FORD FOCUS III Turnier 1.5 TDCi | 70 KW | 1499 CCM | 95PS | 2014/09-> ... |
| FORD FOCUS III Turnier 1.5 TDCi | 88 KW | 1499 CCM | 120PS | 2014/09-> ... |
| FORD FOCUS III Turnier 1.5 TDCi ECOnetic | 77 KW | 1499 CCM | 105PS | 2014/09-> ... |
| FORD FOCUS III Turnier 1.6 TDCi | 70 KW | 1560 CCM | 95PS | 2010/07-> ... |
| FORD FOCUS III Turnier 1.6 TDCi | 85 KW | 1560 CCM | 115PS | 2010/07-> ... |
| FORD FOCUS III Turnier 1.6 TDCi ECOnetic | 77 KW | 1560 CCM | 105PS | 2012/05-> ... |
| FORD FOCUS III sedan 1.5 EcoBoost | 134 KW | 1498 CCM | 182PS | 2014/11-> ... |
| FORD FOCUS III sedan 1.5 TDCi | 70 KW | 1499 CCM | 95PS | 2014/11-> ... |
| FORD FOCUS III sedan 1.5 TDCi | 88 KW | 1499 CCM | 120PS | 2014/11-> ... |
| FORD FOCUS III sedan 1.5 TDCi ECOnetic | 77 KW | 1499 CCM | 105PS | 2014/11-> ... |
| FORD FOCUS III sedan 1.6 TDCi | 70 KW | 1560 CCM | 95PS | 2010/07-> ... |
| FORD FOCUS III sedan 1.6 TDCi | 85 KW | 1560 CCM | 115PS | 2010/07-> ... |
| FORD FOCUS III sedan 1.6 TDCi | 77 KW | 1560 CCM | 105PS | 2012/05-> ... |
| FORD FUSION (JU_) 1.4 TDCi | 50 KW | 1399 CCM | 68PS | 2002/08->2012/12 |
| FORD FUSION (JU_) 1.6 TDCi | 66 KW | 1560 CCM | 90PS | 2004/11->2012/12 |
| FORD GALAXY (WM, WA6) 1.6 TDCi | 85 KW | 1560 CCM | 115PS | 2011/02->2015/06 |
| FORD GRAND C-MAX (DXA/CB7, DXA/CEU) 1.5 TDCi | 70 KW | 1499 CCM | 95PS | 2015/03-> ... |
| FORD GRAND C-MAX (DXA/CB7, DXA/CEU) 1.5 TDCi | 88 KW | 1499 CCM | 120PS | 2015/03-> ... |
| FORD GRAND C-MAX (DXA/CB7, DXA/CEU) 1.6 TDCi | 70 KW | 1560 CCM | 95PS | 2010/12-> ... |
| FORD GRAND C-MAX (DXA/CB7, DXA/CEU) 1.6 TDCi | 85 KW | 1560 CCM | 115PS | 2010/12-> ... |
| FORD KA+ (UK, FK) 1.5 TDCi | 70 KW | 1499 CCM | 95PS | 2018/02-> ... |
| FORD KUGA II (DM2) 1.5 TDCi | 88 KW | 1499 CCM | 120PS | 2016/07-> ... |
| FORD MONDEO IV (BA7) 1.6 TDCi | 85 KW | 1560 CCM | 115PS | 2011/02->2015/01 |
| FORD MONDEO IV Turnier (BA7) 1.6 TDCi | 85 KW | 1560 CCM | 115PS | 2011/02->2015/01 |
| FORD MONDEO IV sedan (BA7) 1.6 TDCi | 85 KW | 1560 CCM | 115PS | 2010/12->2015/01 |
| FORD MONDEO V Turnier (CF) 1.5 TDCi | 88 KW | 1499 CCM | 120PS | 2015/03-> ... |
| FORD MONDEO V Turnier (CF) 1.6 TDCi | 85 KW | 1560 CCM | 115PS | 2014/09-> ... |
| FORD MONDEO V liftback (CE) 1.5 TDCi | 88 KW | 1499 CCM | 120PS | 2015/03-> ... |
| FORD MONDEO V liftback (CE) 1.6 TDCi | 85 KW | 1560 CCM | 115PS | 2014/09-> ... |
| FORD MONDEO V sedan (CD) 1.5 TDCi | 88 KW | 1499 CCM | 120PS | 2015/03-> ... |
| FORD S-MAX (WS, WA6) 1.6 TDCi | 85 KW | 1560 CCM | 115PS | 2011/02->2014/12 |
| FORD TOURNEO CONNECT / GRAND TOURNEO CONNECT Kombi 1.5 TDCi | 74 KW | 1499 CCM | 101PS | 2015/05-> ... |
| FORD TOURNEO CONNECT / GRAND TOURNEO CONNECT Kombi 1.5 TDCi | 55 KW | 1499 CCM | 75PS | 2015/05-> ... |
| FORD TOURNEO CONNECT / GRAND TOURNEO CONNECT Kombi 1.5 TDCi | 88 KW | 1499 CCM | 120PS | 2015/05-> ... |
| FORD TOURNEO CONNECT / GRAND TOURNEO CONNECT Kombi 1.6 TDCi | 70 KW | 1560 CCM | 95PS | 2013/09-> ... |
| FORD TOURNEO CONNECT / GRAND TOURNEO CONNECT Kombi 1.6 TDCi | 85 KW | 1560 CCM | 115PS | 2013/09-> ... |
| FORD TOURNEO CONNECT / GRAND TOURNEO CONNECT Kombi 1.6 TDCi | 55 KW | 1560 CCM | 75PS | 2013/09-> ... |
| FORD TOURNEO COURIER Kombi 1.5 TDCi | 55 KW | 1499 CCM | 75PS | 2014/02-> ... |
| FORD TOURNEO COURIER Kombi 1.5 TDCi | 70 KW | 1499 CCM | 95PS | 2015/05-> ... |
| FORD TOURNEO COURIER Kombi 1.5 TDCi | 74 KW | 1499 CCM | 100PS | 2018/04-> ... |
| FORD TOURNEO COURIER Kombi 1.6 TDCi | 70 KW | 1560 CCM | 95PS | 2014/02-> ... |
| FORD TRANSIT CONNECT Furgon 1.5 TDCi | 74 KW | 1499 CCM | 101PS | 2015/05-> ... |
| FORD TRANSIT CONNECT Furgon 1.5 TDCi | 88 KW | 1499 CCM | 120PS | 2015/05-> ... |
| FORD TRANSIT CONNECT Furgon 1.5 TDCi | 55 KW | 1499 CCM | 75PS | 2015/08-> ... |
| FORD TRANSIT CONNECT Furgon 1.6 TDCi | 85 KW | 1560 CCM | 115PS | 2013/02-> ... |
| FORD TRANSIT CONNECT Furgon 1.6 TDCi | 70 KW | 1560 CCM | 95PS | 2013/02-> ... |
| FORD TRANSIT CONNECT Furgon 1.6 TDCi | 55 KW | 1560 CCM | 75PS | 2013/02-> ... |
| FORD TRANSIT CONNECT kombi 1.5 TDCi | 74 KW | 1499 CCM | 101PS | 2015/05-> ... |
| FORD TRANSIT CONNECT kombi 1.5 TDCi | 88 KW | 1499 CCM | 120PS | 2015/05-> ... |
| FORD TRANSIT CONNECT kombi 1.5 TDCi | 55 KW | 1499 CCM | 75PS | 2015/08-> ... |
| FORD TRANSIT CONNECT kombi 1.6 TDCi | 55 KW | 1560 CCM | 75PS | 2013/02-> ... |
| FORD TRANSIT CONNECT kombi 1.6 TDCi | 70 KW | 1560 CCM | 95PS | 2013/02-> ... |
| FORD TRANSIT CONNECT kombi 1.6 TDCi | 85 KW | 1560 CCM | 115PS | 2013/02-> ... |
| FORD TRANSIT COURIER Furgon 1.5 TDCi | 55 KW | 1499 CCM | 75PS | 2014/02-> ... |
| FORD TRANSIT COURIER Furgon 1.5 TDCi | 70 KW | 1499 CCM | 95PS | 2015/05-> ... |
| FORD TRANSIT COURIER Furgon 1.5 TDCi | 74 KW | 1499 CCM | 100PS | 2018/04-> ... |
| FORD TRANSIT COURIER Furgon 1.6 TDCi | 70 KW | 1560 CCM | 95PS | 2014/02-> ... |
| FORD TRANSIT COURIER Kombi 1.5 TDCi | 55 KW | 1499 CCM | 75PS | 2014/02-> ... |
| FORD TRANSIT COURIER Kombi 1.5 TDCi | 70 KW | 1499 CCM | 95PS | 2015/05-> ... |
| FORD TRANSIT COURIER Kombi 1.5 TDCi | 74 KW | 1499 CCM | 100PS | 2018/04-> ... |
| FORD TRANSIT COURIER Kombi 1.6 TDCi | 70 KW | 1560 CCM | 95PS | 2014/02-> ... |